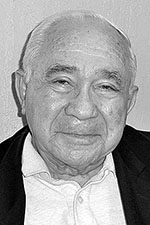 Nevit O. Ergin (1928-2015), devoted his life to the spiritual path of Itlak Yolu, the same path as Mevlana Jalaluddi Rumi, a path outside of Islamic Sufism, having affinities with Buddhism and the Shamanism of Central Asia from the time of Ghengis Khan.  The path emphasizes direct experience, acknowledging that everything else remains in the realm of opinion and gossip.
Ergin was a Turkish-born plastic surgeon who had five children, three boys and two girls.  He completed his medical studies in Canada and practiced plastic surgery in Michigan and Southern California.  Once retired, he moved to Northern California where he concentrated exclusively on his translations and writing.
Hasan Lutfi Shushud (1901-1988), a Saint and Master of Wisdom who lived in Turkey, introduced Ergin to Itlak Yolu and Rumi in 1955 and subsequently became his life-long friend.
Ergin is the only person to have translated into English Rumi's entire Divan-i Kebir–44,000 verses in 22 volumes.  He also translated all 2,217 of Rumi's rubais (quatrains) – the Rubailer of Rumi (to be made available soon).  His translations are not word-by-word, but rather reflect the essence of Rumi's words.  He authored a book of short stories, Tales of a Modern Sufi. Another of his works, The Sufi Path of Annihilation, includes poetry of Rumi, sayings by Hasan Shushud, questions and answers about the Itlak path, as well as Ergin's own stories.  Other works include Forbidden Rumi (with Will Johnson), Crazy as We Are, Rose Garden, Magnificent One, Glory of Absence, and Divine Wine.  His final book, completed just before his passing, is entitled Unknown Rumi.
He spent over 60 years of his life "trying to get rid of this earth before it gets rid of me."  He died at the age of 87 in July 2015.
Poetry of Rumi a Unifying Force of Civilizations. Interview with Ergin first appeared in the March/April issue of SPAN, a magazine published by the U.S. Embassy in New Delhi. Anjum Naim is SPAN's Urdu editor.