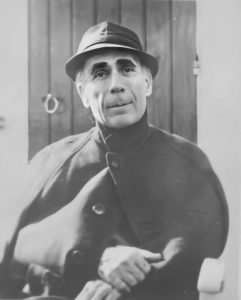 Hasan Lufti Shushud (b. June 8, 1901, d. January 1, 1988) was a saint and Master of Wisdom who lived throughout his life in relative obscurity in and around Istanbul, Turkey.  He did not speak of his personal history. We do know that he studied in private schools and began his professional life as a teacher of French and English, but spent the majority of his working life at a series of banks.  As for his family life, he was married and had three children, two boys and a girl.
His spiritual life began in 1917 and intensified soon after when he discovered the impact of fasting, zikr (a type of breathing exercise), and suffering, the principal practices in "Itlak, the Path of Annihilation."  He came to understand that direct experience, which can be achieved by these practices, is the only way to complete liberation from our material reality.  Itlak Yolu is outside of Islamic Sufism and has affinities with Buddhism and the Shamanism of Central Asia from the time of Ghengis Khan.
Hasan Shushud has two books, both translated into English.  His book of aphorisms is entitled Fakir Sozleri (translated literally: Poor Glossary).  His other book, Hȃcegȃn Hȃnedȃni  (Masters of Wisdom of Central Asia), covers the biographies of the Naqshband Order of Sufism who lived in the fourteenth century.  (It should be noted that some Sufis of the Naqshband Order of Sufism may represent some of the characteristics of the Masters of Wisdom and that the period of the Masters of Wisdom started in the twelfth century.) More important than the biographies are the book's introduction, appendix and glossary: They present unique concepts that deserve the utmost attention.
Especially towards the end of his life, Shushud shared the Itlak practice with all those serious aspirants regardless of their religious background.