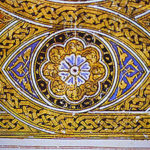 Sometimes You rip the curtain.
Sometimes You repair it.
Sometimes You get along with me.
Sometimes You break me apart and burn me.
I am learning about youth in my old age.
O people of the world, I can advise you about old age.
Rubailer (2016), Rubai 2, page 481.
The Rubaiyat of Rumi, The Ergin Translations (approx.pub.fall2023), Rubai 1030, Volume 3.