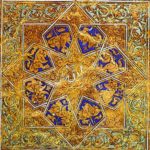 We are the treasure of God's secrets.
We are the endless ocean full of pearls.
We are the space between the Moon and the fish.
We are the One who sits on the throne of the Sultan.
Rubailer (2016), Rubai #2, page 339.
A Rubaiyat of Rumi, The Ergin Translations (tent. pub. 12/2021)
Rubai #719, Volume 2.