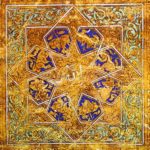 There is a sea which is not far from us.
It is unseen, but it is not hidden.
It is forbidden to talk about.
Yet, at the same time,
it is a sin and a sign of ungratefulness not to.
Divan-i Kebir, Volume 1, ghazal 97, verse 1205, page 230.