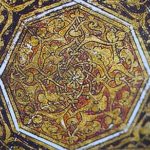 When Absence adds Soul to your soul,
you will get morsels from Absence,
and you will chew them with pleasure.
Neither kitchen nor cook will appear.
But, plate after plate of sweets will be served to you.
The Rubailer (2016), Rubai 1, page 455.
The Rubaiyat of Rumi, The Ergin Translations (ApprxPubWinter2024), Rubai 1067, Volume 3.