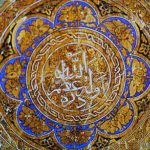 If you become God's prey, you will be freed from sorrows.
If you run after your desires, you will be a slave to yourself.
You should know this very well:
your being is the curtain which conceals God from you.
Do not stay with you, or you will get hurt all the time.
Rubailer (2016), Rubai 2, page 474.
The Rubaiyat of Rumi, The Ergin Translations (apprx.pub.fall2023), Rubai 1018, Volume 3.