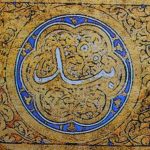 O heart, if you cannot endure the troubles of Love, go away.
If you don't give up your life, you will never reach the Beloved.
If you haven't been thrown, as Abraham was, into the fire,
you will never find, as Khidr* did, the Water of Life.
*Khidr  A legendary man who is said to have attained immortality by drinking from the Water of Life and who comes to help those in moments of extreme distress.
Rubailer (2016), Rubai 4, page 449.
The Rubaiyat of Rumi, The Ergin Translations (apprx.pub.Fall 2023), Rubai 959, Volume 3.