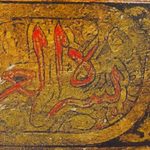 The One who sees everything as permissible
is the soul who has tasted that Divine Wine.
********
The only one who tastes such Wine
is the one who has long shed his own blood.
He bleeds from his lungs, while that Wine rejuvenates them.
The One who becomes immortal with morning Wine
is freed from debt, sorrow and grief.
Such a One is a Beauty of Absence.
If His cheeks are purple, it is not from blood.
If they are white, it is not from camphor or some white resin found in a tree.
It is from a candle which burns and brightens everywhere.
That candle's light has reached beyond the arch.
The moths which surround it are the hearts of the saved ones.
The curtain of the seven stages of the sky
are burned by its light, soul, heart, flight, everything, everywhere.
In this ruined tavern, O yelling, screaming Hodja,*
all this is something your teeth will never be able to sink into.
Applause! Bravos!
What a beautiful state of ecstasy has freed You from other states.
Applause! Bravos!
What a beautiful morning of drinking.
What a beautiful morning of wine.
Even the angel of death says,
"Stop. Your arm cannot reach there."
We don't know anything, really.
What is knowledge?
This is the pardon of sin.
This is the forgiveness to cleanse all guilt.
Hear the shouts of the drunks from the Land of Absence.
These shouts are different than yells and screams.
This is a different kind of tumult.
If you refuse to hear, if you refuse to listen,
go be a slave for the common people.
Be inflicted by spear wounds to gain your two or three slices of bread.
God's Sems of Tabriz always rides the sun of the Sun.
He uses it like a horse,
but He doesn't go away like the sun.
*Hodja  Muslim priest.
Divan-i Kebir, Volume 20, Ghazal 67, verses 733-744, pages 139-141