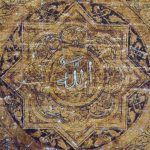 On a cloudless summer night when the stars are shining
and the heart of the sky is turning into a rose garden,
there are thousands of signs of Divine Love all around.
Hundreds of sighs rise up from me
which illuminate the mirror of my heart.
Rubailer (2016), Rubai #2, page 245.