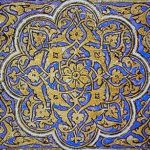 If hundreds of long days were joined together
as one very long day,
my soul would not complain about it.
On the contrary, it would be content.
It would stand still and cry from the pain of Love.
You are smiling at my words,
because you are still a cold man of knowledge,
not a crazy man of Love.
Rubailer (2016), Rubai 1, page 469.
The Rubaiyat of Rumi, The Ergin Translations (apprx.pub.fall 2023), Rubai 1003, Volume 3.