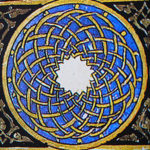 I thought I could control the dog of my selfishness
by putting on him the chain of repentance.
Although he is getting tired and old,
whenever he sees a carcass,
he breaks the chain and attacks.
What can I do with this dog?
Rubailer (2016), Rubai #2, page 338.
A Rubaiyat of Rumi, The Ergin Translations (tent. pub. 12/21), Rubai 717, Volume 2.