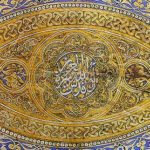 Don't look at me as if I am a stranger.
I am close to you.
Try to see the honey and not just the bees.
Unless you are Satan, look for the meaning of Adam.
Don't bother with his shape and size.
Rubailer (2016), Rubai 4, page 375.
The Rubaiyat of Rumi, The Ergin Translations (apprx. pub. 5/2022), Rubai 826, Volume 2.