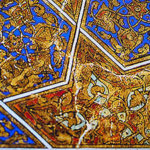 You are neither water nor earth. You are something else.
You are created from mud, but you are not mud.
You are beyond this muddy world.
You are on the journey to your Essence.
Your body is a riverbed. Your soul is the Water of Life.
But, as long as you stay with your self,
you will not know either one.
Rubailer (2016), Rubai 4, page 450.
The Rubaiyat of Rumi, The Ergin Translations (apprx.pub.Fall 2023), Rubai 963, Volume 3.