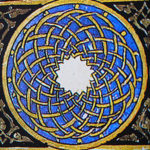 You used to live in the sky,
used to think you belonged to that world, pure and clean.
Then, you drew your picture on the Earth,
got stuck in this dirty place and forgot your origin.
Rubailer (2016), Rubai 3, page 398.
The Rubaiyat of Rumi, The Ergin Translations (apprx. pub. 10/2022), Rubai 848, Volume 2.