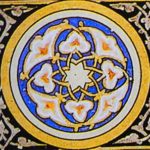 When every day infamy spreads over an entire age,
the one who becomes famous is not a courageous man.
If you are looking for a pearl, dive deep into the ocean.
Do not bother with the foam on the shore.
Rubailer (2016), rubai 3, page 186.
The Rubaiyat of Rumi, The Ergin Translations (apprx.pub. 10/2022), rubai 373, volume 1.