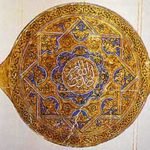 I became exuberant when that pearl emerged in me.
I was turned into a rough sea by that storm.
I revealed the secrets of the ocean,
secrets shaken out with thunder.
Then, I slept on the shore like an empty cloud.
Rubailer (2016), Rubai 2, page 329.
A Rubaiyat of Rumi, The Ergin Translations (tent. pub. 12/1/2021), Volume 2, Rubai 696.