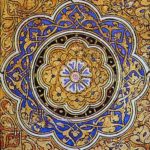 My soul is in the heart of the people who remain always soul.
They are like roses, knowing nothing but kindness.
Everyone has some content.
We are like chips of gold. They are like gold mines.
Rubailer (2016), Rubai 3, page 358.
The Rubaiyat of Rumi, The Ergin Translations (apprx. pub. 5/2022), Rubai 783, Volume 2.