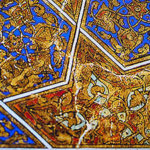 Once I was a child and followed teachers.
Next, I was content watching the faces of my friends.
But, see what happened at the end of my story:
I came like a cloud and left with the wind.
Rubailer (2016), Rubai 2, page 351.
The Rubaiyat of Rumi, The Ergin Translations, (apprx. pub. 5/2022), Rubai 754, Volume 2.