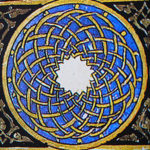 Ascend to the sky from this banal world.
Your soul will be blessed if you do.
Walk nicely now.
Yes, you have jumped out from this town which is so full of sickness and shivering.
Now, make your home the land of happiness and joy.
If the painting of your body is destroyed, return to the Painter.
If your flesh is decayed, be content with being pure soul.
If your face is withered because of death,
settle down in the purple-colored tulip garden.
If they close the door of the house on you,
come up from the roof. Become your own ladder.
If you are separated from friends and relatives,
if you find yourself all alone,
become the King of the Auspicious Conjunction,*
acquainted with God's friendship.
If you are separated from bread and water,
turn into the kind of bread
which gives power directly to hearts and souls.
*Refers to at least one Mughal king who claimed he was born under the auspicious conjunction of Jupiter and Venus.
Divan-i Kebir, Volume 18, Ghazal 189, verses 18821-1887, page 148.