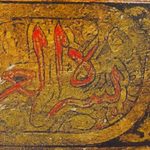 The Beloved said to me,
"Since you are buying kisses from every beauty,
why don't you buy one from Me?"
I asked, "With gold?"
"No," He said. "What can I do with gold?"
So I tried again, "With my life?"
"Yes, yes," He said. "That's what I want, yes."
Rubailer (2016), Rubai 1, page 464.
The Rubaiyat of Rumi, The Ergin Translations (fall2023), Volume 3, Rubai 988.