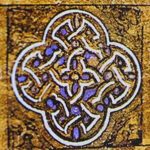 Don't think that I have run away from you
or that I have given my heart to someone else.
I am not tied to anyone or anything.
Because I am separated from my origin, I am a stranger here.
And, I am running like a torrent into the sea of the Beloved.
Rubailer (2016), Rubai #1, page 315.