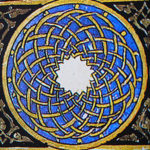 We are the lovers of Love. Love is our salvation.
The soul resembles Hizir.* Love resembles the Water of Life.
Alas to the one who is not decorated by the Sultan of Love.
How could an animal know the soul's sugar?
*Hizir  A legendary Godsend who attained immortality by drinking from the Water of Life and who comes to aid in a critical moment (also known as Khidr).
Rubailer (2016), Rubai, Rubai #2, page 134.