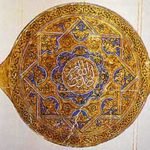 I came to grab you by the ear and drag you away.
I came to leave you without a heart, without a self.
I came to put you inside of My heart.
O rose sapling, I came to embrace you like a beautiful spring,
to scatter you here and there and everywhere.
I came to charm you in this palace,
to raise you above the sky like the prayers of lovers. Continue reading "I Won't Leave You in the Middle of the Road (1/8/2023)" →