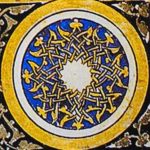 I have been dissolved in the sea of purity like salt.
There is no belief, no heresy left in me.
Neither certainty nor doubt remains.
A shining star has appeared in my heart.
Even the seven levels of sky have disappeared into that star.
Rubailer (2016), Rubai #1, page 285.