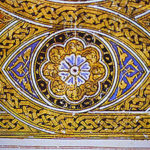 I am not the kind of lion which fights with the enemy.
I fight with my self. That's enough for me.
I have become dirt for Love's feet, but am settled in the knowledge
that I will rise from the ground like a rose, like an iris.
I wear dark dresses because of the sorrow of Love.
But, I will rise like a bright moon thanks to that night.
Because of Love's fire, I have turned into smoke.
But, I will go through the window like smoke.
I am a child whose teacher is Love.
He won't let me raise my head.
He won't let me stand up.
I should be alive all the time like Love.
I should cease to eat and sleep.
Come to your senses.
Be silent like Ebu-Bekr-i Rebolis, the rebab player.
Be silent so that I will be a soul out of body.
Divan-i Kebir, Volume 18, Ghazal 107, verses 1055-1061, page 9.