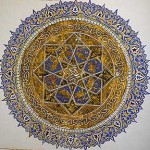 I have gone, so one less headache in this world.
I am free from suspense. I have saved my soul.
I said goodbye to the ones I hang out with.
Then, I carried my soul to the land where a trace never appears.
I moved out of this house of six doors,
and took all my belongs to the land of Absence.
I saw the hunting Sultan of the land of Absence.
I flew like an arrow and took my bow.
The club of death came to my side.
I snatched the ball of happiness from the middle.
An amazing moon reflected in my window.
I went to the roof, carrying a ladder.
The dome of that sky where souls are gathered
was much nicer than I used to think.
My rose branch is faded and withered.
I took it back to the rose garden.
Like a customer, I took my money and belongs
to the source of the mine.
I saw a world with no boundary in the land of Absence.
I took my black tent to that place.
Don't cry for me. I am happy on this journey.
My road reached the place of the heavens.
Engrave these words on my tombstone:
I saved my head from troubles and trials.
O body, sleep nicely in this place.
I have taken your news to the skies.
Close your mouth.
I took all the wailing to the One who created the world.
From now on, don't talk about the heart's sorrow,
because I took my heart
to the One who knows all the secrets.
Divan-i Kebir, Volume 14, Gazel 132, Pages 29-30, Verses 1464-1479.