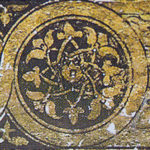 O one whose heart is full of words, yet remains silent,
Read the chapter, Hel Eta, in the Quran.*
Read the epigram, La Feta.**
Put on the tent of soul at the top of the sky.
Raise the waves from the sea of the heart.
Tear the bag of existence.
Let those two or three water carriers go.
If you were to start the journey from your being
and go beyond yourself,
you would be saved from both worlds.
Whom are you afraid of?
Tell us openly.
Do you know where that beautiful, ruby-colored wine is?
Climb to the top of our head.
Scatter sparkles on our heart.
Then, answer.
The cupbearer in the sky is cheerful,
but the Earth's lips are dry.
Night and day are born from those lips.
How does this happen? Tell us.
There are roses, jasmines and whole gardens on this Earth
which come from the heart of the sky.
But, the cold autumn wind is waiting in ambush on every corner.
How could this happen? Tell us.
O drunk nightingale,
how long will you cry because of the coldness of winter?
O nightingale, quite complaining about your grief.
Be grateful. Talk about loyalty.
On this forked road which has only two stops,
you complain even when you give thanks.
Be annihilated. Plunge into Nothingness.
Tell us something about the mirror of pureness and cleanliness.
Leave the part. Talk about the whole.
Leave thorns. Talk about the rose.
Leave attributes. Go to Essence.
Talk about God.
*Hel eta  Quran: Chapter XXVI, Verse 2.
**La feta  "No one is as brave as Ali (according to the Shias, the first Imam believed to be the rightful successor to the Prophet Muhammad).
Divan-i Kebir, Volume 21, Ghazal 81, verses 881-890, pages 179-180.