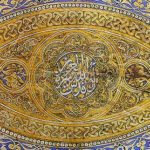 I stopped over at a tavern one day.
There, I started to tear my patched-up body-cloak into pieces.
While everyone else was busy with their own affairs,
I was busy destroying my self, trying to find Me.
Rubailer (2016), Rubai 3, page 326.
A Rubaiyat of Rumi, The Ergin Translations (tentative pub. date 12/1/21), Vol. 2 of 4, Rubai 691.